We interviewed two project managers who work at Studio 5 Taiwan.
Project Manager/Shanchun Hu Forever 17 Male (Nickname is from astrology zodiac "Leo".)
Project Manager/Yuehchia Chu 23 years old Female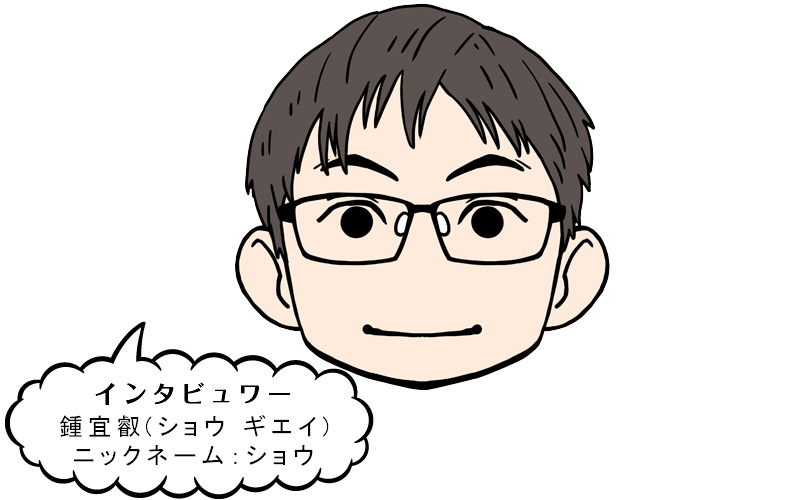 Project manager Yijui Chung takes charge of this staff interview.
Talk About Yourselves
Chung: First, please talk about yourselves.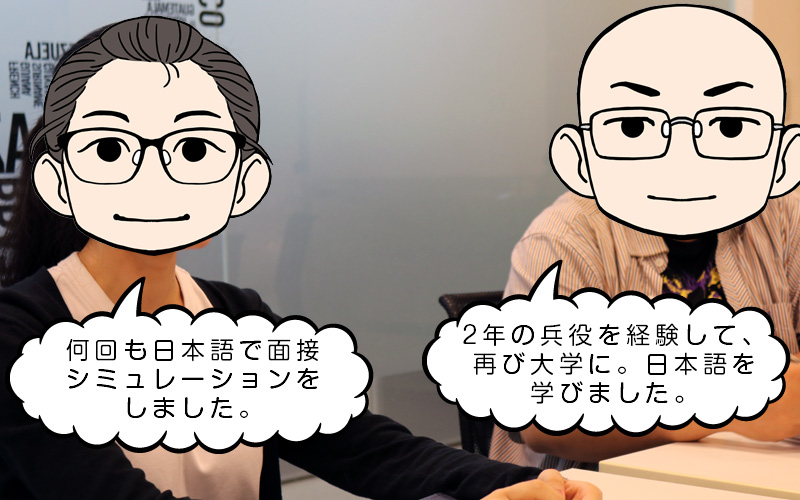 Chu: Before graduating from university, my younger sister sent me a link to Studio 5's recruitment page. At that time, I was really worried about finding a job, so I gave it a try. Before the interview, I asked my Japanese friend to help me with the interview. We did a lot of mock practices in Japanese.
Chung: How old are you now?
Chu: 23 years old, I just graduated from college.
Chung: Next is Leon, please introduce yourself.
Hu: In my case, it's a little complicated…Although I went to college more early than the others, I dropped out after studying one year at school. Then, I returned to school after two years of military service. At that time, I majored in math, a subject I knew from elementary school to high school. But I realized it was not what I really wanted to study. As a result, I transferred to a Japanese major in my senior year. After I graduated, my Japanese was strong enough for everyday living, and I took on several jobs that required Japanese too. Afterwards, I saw the recruitment page for Studio 5 and applied for this job.
Although I'm around 30 years old, my heart is always 17! (Smile/ hey!)
Why Did You Join Studio 5?
Chung: The next question is, why you decide to join Studio 5?


Chu: At that time, I was thinking about working and learning at an animation company, and practice my Japanese speaking skill at the same time. At school, we usually create animated films by ourselves, so I thought it'd be more a lot more fun to work with a team.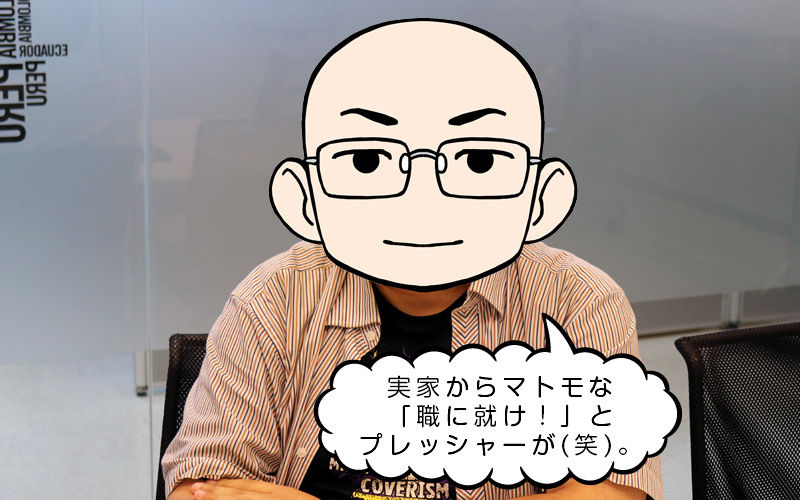 Hu: Well, for me … Although I was working as a freelance translator, my family kept pushing me to find a decent job, and by chance I read about Studio 5 online. Animation? I do watch animation …Japanese required…I'm good at that too… project managing? I like that kind of job… that's why I decided to apply this job.
What Do You Think About Studio 5
Chung: The next question is,what do you think about Studio 5 ?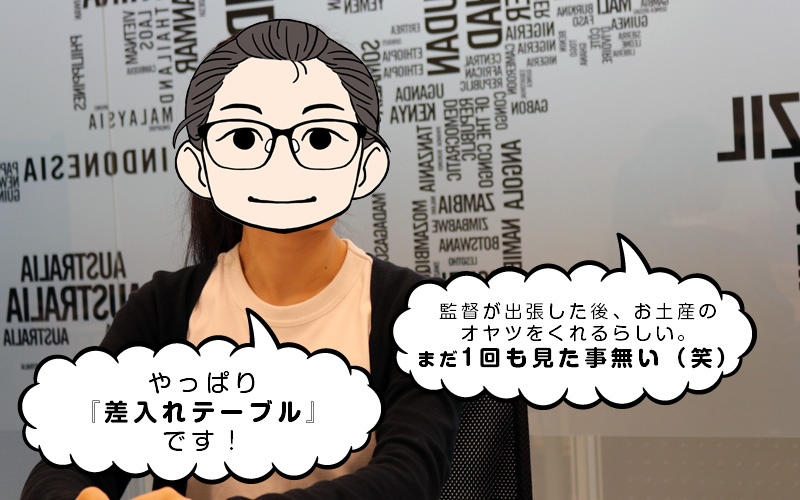 Chu: The "Snack Table" for sure !
I've heard from Shirley that the director brings snacks and omiyage back for everyone when he comes back from business travel. However, I haven't actually gotten the chance to see it yet. (smile)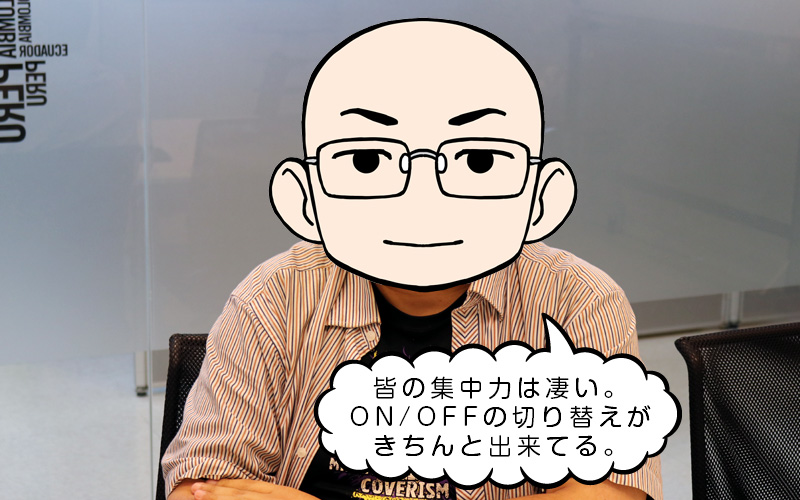 Hu: I think that everyone really concentrates while working on projects, but still but still manage to have nice, enjoyable conversations during breaktime and other activities. It's great to be able to switch naturally between work and relax mode.
Memorable Animation
Chung: Please share what animation has impressed upon you the most?
Chu: My favorite animation is "Devilman Crybaby" on NETFLIX, that kind of fast tempo and tension really impresses me.
I hate to hear uninformed opinions like "animation is for kids".
I enjoy animation with strong themes of darkness and suspense. An example is Urobuchi Gen's works, I like how characters can die easily in his story.
Chu:Other thoughts… I'm always behind when I'm watching animation.
Hu: What do you mean?
Chu: I always watch animation that's already fallen out of fashion.
Hu: Well… I don't watch a lot of animation. I usually watch animation with outstanding music or theme song. Animations that have stuck out to me are "Sakura Wars"(including song performence) and "Aim for the Top GunBuster"– I love works with music by Kohei Tanaka. As for music featured animation, "Symphogear" is a favorite of mine.
Hu: In addition, instead of just straight forward acting, I like the kind of work that can make the audience think. Series like "EVA" or "Revolutionary Girl Utena", I enjoy animations with metaphors and depictions of a changing consciousness through the composition of objects and layout on screen.
Goals for the Future
Chung:Good. Next. What are your goals for the future?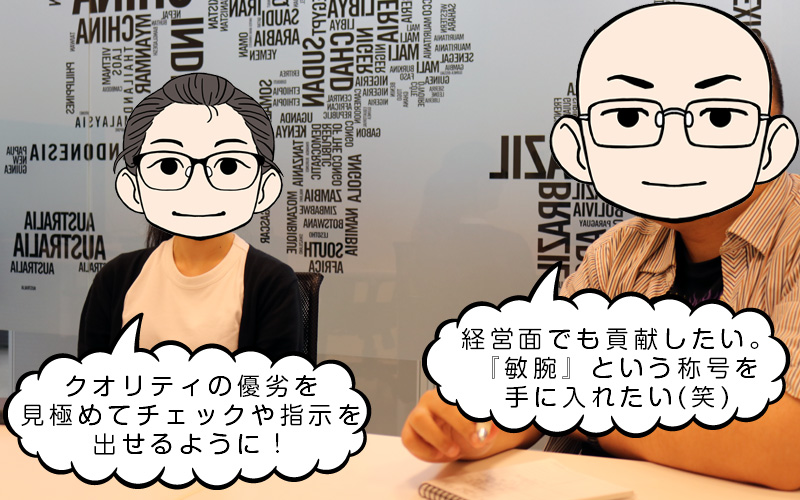 Chu: I hope that I can learn to tell whether a layout is good or not, and be able to check results and give retake instructions. Also, while working as a project manager, I want to challenge myself to do some composition works.
Chung: How about Leon?
Hu: Well, I lack the sense for beauty so… I want to contribute to the company management. My goal is to keep growing to a level that I can receive a "name" like "Capable Leon".
Chung: Great! Thanks for your cooperation today. We will meet many clients through various projects so let's do our best together!